Published:
March 31, 2015 09:05 pm EDT
After receiving approval from the Toronto Executive committee last week, the Toronto City Council formally passed a motion on Tuesday to study expanded gaming at Woodbine Racetrack.
The vote passed late Tuesday by a vote of 29-11.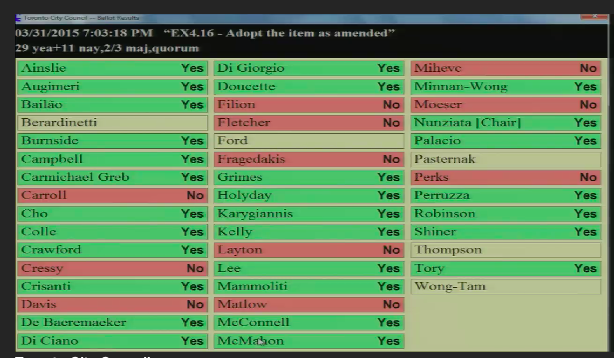 (Photo: Matt Elliott/twitter.com)
The Executive Committee recommends that:

1. City Council authorize the City Manager to conduct a public consultation process to seek input from Torontonians on the matter of expanded gaming at 555 Rexdale Boulevard (Woodbine Racetrack); including:
a. a public meeting in Etobicoke;

b. an online questionnaire promoted on the City's website and via social media;

c. a city-wide public opinion poll; and

d. a presentation at Executive Committee
2. City Council direct the City Manager to prepare a report for the June 30, 2015 meeting of Executive Committee, which would include an assessment of the technical planning requirements, and merits and potential risks of expanded gaming at 555 Rexdale Boulevard (Woodbine Racetrack); including:
a. the size and type of facility that would be suitable at the Woodbine location, including:
1. total number of slot machines; and

2. total number of other gaming tables
b. any required land use, infrastructure and other planning matters associated with expanded gaming at the Woodbine site;

c. the potential economic impact (GDP and jobs) of expanded gaming at Woodbine Racetrack and the potential added economic impact of an expanded entertainment and retail destination, including a breakdown of anticipated part-time and full-time employment in the proposed gaming facility as well as projected salaries based on data from comparable casinos in Canada and the United States, and include estimations for:
1. gaming revenue;

2. non-gaming revenue;

3. total revenue;

4. direct, indirect, and induced jobs (FTE);

5. average Annual Income (full-time employee); and

6. an economic analysis to determine per slot machine how much discretionary income each slot machine would remove from the economy on an annual basis;

d. the potential risks to the current employment at the Woodbine Racetrack if a new casino were to be located within the GTA but outside of the City of Toronto;

e. the identification of social and economic development objectives that the City may require as conditions for its approval of expanded gaming at Woodbine, to leverage any new development to benefit local Toronto residents and communities; including recommendations to encourage full time employment.

f. the potential additional social impact to individuals and families due to gambling-related addictive behaviour and crime; options to mitigate and strategies to address the negative human and social impacts; social procurement opportunities in the development and operation of a casino and related facilities (i.e., convention centre, hotel etc.); City and community use of space agreements for appropriate uses (i.e., local arts, culture, etc); and measurement and monitoring systems to independently assess Social Contract implementation and effectiveness; and include information on funding for any major research used in this analysis;

g. any incremental costs associated with expanded gaming at Woodbine including police, fire and emergency medical services costs;

h. the amount of projected revenue to be received by the City as part of a Municipal Contribution Agreement with the Ontario Lottery and Gaming Corporation reflecting projected revenues at the new gaming site including:

1. total annual revenue to the City;

2. average City share of estimated total gaming revenue; and

3. annual minimum revenue;

i. the benefits identified in the Woodbine Live initiative;

j. a framework for ensuring that a Labour Peace Agreement is in place for all aspects of the proposal and a local hiring and training requirement; and

k. the results of the public consultation, set out in Recommendation 1.