Published:
September 11, 2021 10:55 pm EDT
With numerous runner-up efforts and finishes behind heavy favourite Bulldog Hanover on his card, Desperate Man avenged his defeat in the Pepsi North America Cup elimination to down his provincial rival and take top crown in the $1 million final on Saturday (Sept. 11) at Woodbine Mohawk Park.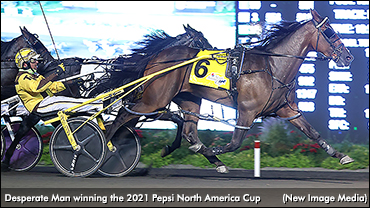 The pair entered the final off a final-half speed show in their elimination, with a :51.3 back half proving not enough for Desperate Man to beat Bulldog Hanover. He settled for second a length behind Bulldog Hanover, who went to the gate the 3-5 choice. Perfect Sting, the other elimination winner, went as the second choice at 3-1.
Bulldog Hanover wasted no time off the car, storming to the lead by a :27.3 first quarter and opening his lead in the backstretch. Rockyroad Hanover gave chase from the pocket while Perfect Sting committed to race first over into a :55.1 half. Desperate Man caught his cover and stayed close to the helmet as Bulldog Hanover took the field to three-quarters in 1:22.
Pressure mounted on Bulldog Hanover off the turn and he began to drift off the cones in the straightaway battle. Perfect Sting dug into the pacesetter continuously through the stretch while driver Trevor Henry tipped Desperate Man to the center of the track. With an open road to the finish, the Shadow Play gelding lunged by the tired battlers and claimed Canada's top pacing glamour boy prize in a 1:49.3 mile by three-quarters of a length. Perfect Sting finished second, Whichwaytothebeach weaved through traffic for third and Bulldog Hanover faded to fourth.
"I had to get away better than I did last week; I had to have him forwardly placed," Henry said after the race, having raced from last of six in his elimination. "He's a little tricky behind the car. Last week, he kind of ran behind the gate. I got him back pacing and I didn't want to rush him off his feet, I was just interested on making the final. Tonight I said 'We got to have him closer. If he makes a mistake, he makes a mistake. But we have to be closer.'
"He started off slow," Henry also said, referring to the beginning of Desperate Man's sophomore season. "They decided to keep him at home and there was no racing through the pandemic, and that kind of hurt him at the start. He never had the races in him. As the year progressed, he got better and here he is today."
With nine starts under his belt this season, Desperate Man scored his second victory of the year – his first coming in a 6-1 upset over Bulldog Hanover and Meadowlands Pace winner Lawless Shadow in a $99,800 Gold event at Georgian Downs. In his career, Desperate Man has won five races from 15 starts and has now banked $853,014 for owners Kathy & John Cecchin, their daughter Nicole and her husband Paul Davies, all of Arthur, Ont.
Trevor Henry had previously raced in the North America Cup on three occasions, with Saturday's renewal his fourth appearance and his first victory. He came up racing at many of Ontario's smaller-circuit tracks before becoming a Woodbine-Mohawk regular in 2014. Trainer Kathy Cecchin, with just under 200 starts through her long training career, won the North America Cup in her first appearance.
"It feels great [to win]. These people deserve it," Henry also said after the race. "They've been in the business a long time, had some hard times and got lucky to get this horse. I started at the bottom, and now I've won the biggest one. It's been great. I don't get too crazy, but I will have a few beers later."
Desperate Man and Kathy Cecchin, Trevor Henry and John Cecchin
"It's always nice to win, but to be honest with you last week was the pressure week," John Cecchin said after the race. "For me, $8,000 [the race's starting fee] is a lot of money. And when I got it back, everything's gravy. And then maybe the kids will use their share pretty good."
A $20,000 Lexington Selected Yearling Sale purchase that was bred by Winbak Farm of Chesapeake City, Maryland, Desperate Man's biggest stakes engagement on his calendar was the Pepsi North America Cup. With the Canadian classic now in his coffers, Cecchin plans to keep racing his stable star for years to come.
"He's a special horse, but we've had a lot of nice horses over the years but nothing that makes money like this one. The game plan is he's a Saturday-night horse for two or three years, and then after that we'll buy him a saddle and ride him."
The Pepsi North America Cup was the anchor of a stakes-packed card conducted on Saturday, Sept. 11. Read all the recaps from Cup night in the 2021 Pepsi North America Cup News Centre.